The Problem
Introduced and invasive vertebrates (i.e. rodents, feral cats, feral pigs) are responsible for extensive damage to ecosystems and are a significant driver of extinction of native species. Invasive vertebrates are particularly devastating to island ecosystems that have a high level of endemism (home to species found nowhere else on Earth). While the removal (eradication) of invasive vertebrates has far-reaching benefits, one of the most difficult and expensive aspects of these eradication projects is detecting and removing animals at low densities. To eradicate invasive vertebrates, it is critical to ensure every last individual is gone so that the problem does not return.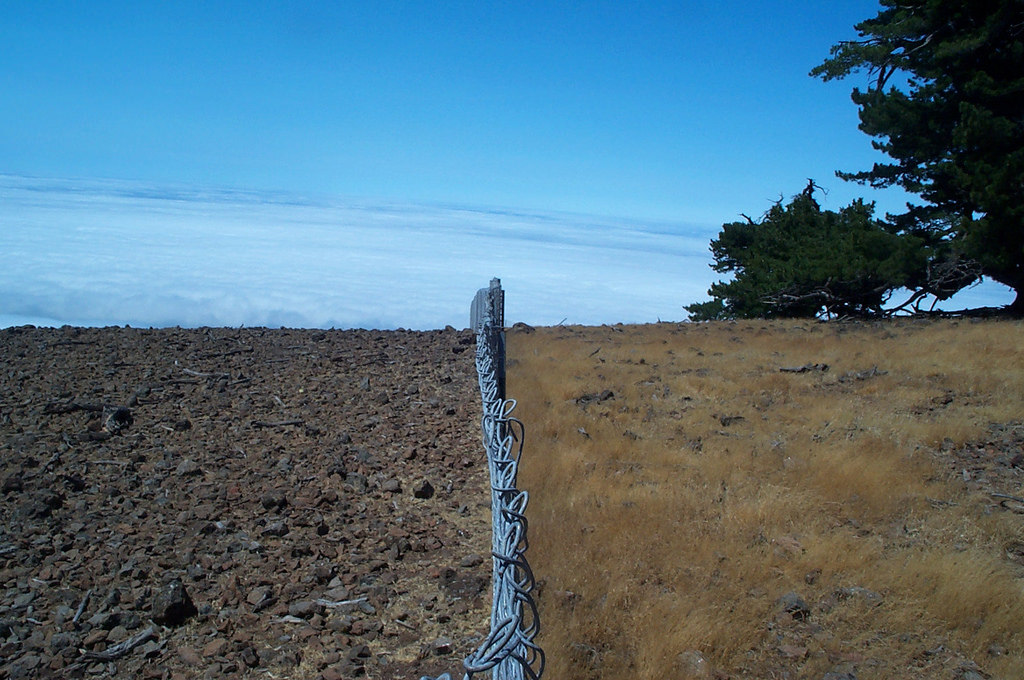 Guadalupe Island, Mexico, has 34 plants found nowhere else on Earth -- almost all endangered due to feral goats. Photo Credit: Island Conservation
Effective detection tools exist, but the effort required to quickly retrieve, process, and analyze detection data in a remote environment is overwhelming and prohibits the island-wide coverage necessary to rapidly confirm absence and successful eradication. Instead, projects often expend effort over a fixed period, up to two years, and confidently confirm eradication if no new detections are made within that time. The fixed-time monitoring approach often expends unnecessary cost and effort resulting in less conservation action on islands and species in need.
The Challenge
This challenge seeks innovative new techniques, systems, and other solutions that are financially scalable and dramatically improve the efficiency of rapid and accurate detection of low-density invasive vertebrate species in a remote location without internet access.
This challenge seeks innovative approaches focused on the following three areas:
1. IDENTIFICATION ROADBLOCK: MANUAL IDENTIFICATION OF INVASIVE SPECIES IS COSTLY AND TIME INTENSIVE
Most detection techniques, like camera traps or track-pads (flat surface like sand that captures footprints), require the manual identification (taxonomic classification and naming) of a detected species by trained experts. This is costly and time consuming for large-scale detection efforts. We invite ideas for low-cost, passive (automated) technique that can detect and classify invasive vertebrates in remote environments.
2. DATA DELIVERY ROADBLOCK: TOO MUCH TIME BETWEEN DETECTION AND RESPONSE
Many island invasive vertebrate projects are conducted where internet access is not available, requiring conservationists to retrieve data and maintain devices manually. This results in significant lag time between a detection event and a management response, often on a scale of weeks or months. We invite bold ideas that improve the speed of management response through the rapid notification of a detection event in a remote location.

3. DATA MANAGEMENT ROADBLOCK: TOO MUCH DATA
Reaching an acceptable level of confidence that a target invasive vertebrate species is absent from a specific area requires conservationists to record detection events and detection effort over time. Confidence is improved when data are collected from the beginning of a project. However, detection data become difficult to manage when using hundreds of devices for several years. We invite bold ideas for a self-contained data management system capable of storing, reviewing, and synthesizing detection data across a network of devices and/or multiple detection techniques. We invite low-cost solutions to detect (and predict) the invasion pathways and the spread of the fungus in the environment, as well as solutions that would help contain or reduce the spread without harming other beneficial species.
Criteria
Solutions could be applicable to, or a component of, an entire detection system.
ACCURACY:They should automatically identify species with >90% accuracy compared to manually classified detection data.
COST: They should dramatically (10x or higher) reduce the effort needed to maintain island-wide detection monitoring compared to current methods.
Solutions should initially focus on feral cats as a target species and/or improvements on a decision support system capable of managing and synthesizing detection information for multiple species or detection techniques.
Problem Background
Invasive vertebrates are responsible for extensive damage to ecosystems and the extinction of native species. Their impacts are particularly severe on islands: invasive species are implicated in 86% of extinctions of island species since 1500 AD (Bellard et al. 2016) and 76% of the world's islands with highly threatened island species have at least one invasive vertebrate species present (Spatz et al. 2016). The eradication (removal) and control (including containment) of invasive vertebrates has far-reaching benefits; rare native species may no longer need costly legal protection and disturbed ecological balances on islands can be restored. Social and economic benefits follow, including the safeguarding of food production systems, water supplies, and tourist-based economies. Worldwide, more than 1500 successful invasive vertebrate eradications have taken place in the island context (DIISE 2015). Lessons learned and growing public support for such efforts are enabling practitioners to remove invasive vertebrates from larger, more remote, and more technically challenging islands each year. In fact, recent government initiatives like New Zealand's Predator Free 2050 have set a new, high bar for region- and archipelago-wide removal of invasive vertebrates on islands.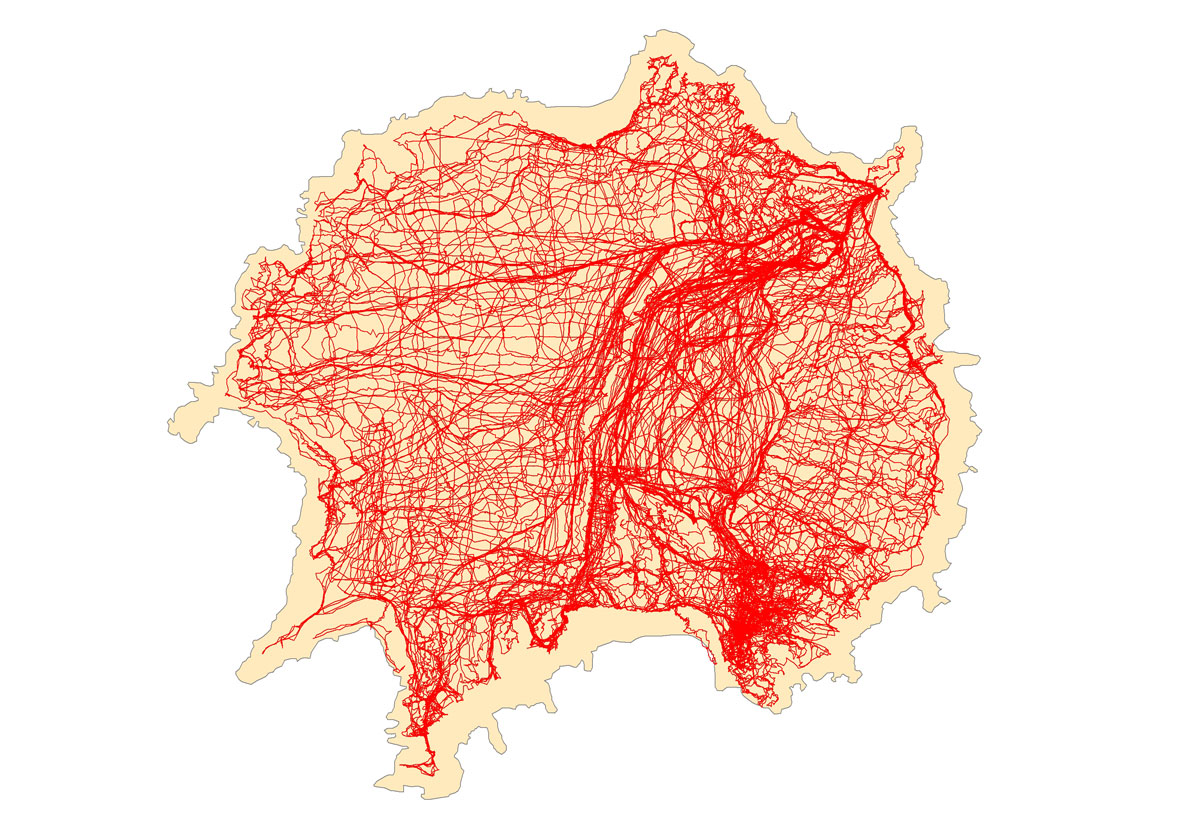 A map of the nearly 1,000 km (620 miles) logged by conservationists looking for the last invasive rabbits during a three-week monitoring trip on Chañaral Island, Chile. Photo Credit: Island Conservation.
To eradicate an invasive, it is critical to know that the last one is gone to ensure the problem does not return. One of the most difficult and expensive aspects of these removal projects is the accurate and cost-effective detection of animals at low densities. Statistical metrics exist for estimating the likelihood that animals are no longer present within weeks or months of the last detection (Ramsey et al. 2011), but these metrics are often not used because they require consistent data collection—which is currently cost prohibitive and difficult to manage (Ramsey and Will 2012).
Camera traps and track-pads are effective tools for detecting invasive vertebrates, but the effort (and associated staff costs) required to conduct the large-scale detection monitoring (>200 devices) necessary to rapidly confirm absence is overwhelming. The greatest limitations for long-term and large-scale deployment of these tools are: the frequency of visitation required for data collection (data delivery) and the volume of data to be manually processed (identification). Innovations that automate identification and data delivery would dramatically reduce the burden on staff to retrieve data and enable the island-wide monitoring effort necessary to rapidly confirm absence. This would result in a significant reduction of cost by confirming absence sooner (months rather than years) and reducing staff effort associated with detection monitoring.
Island-based invasive vertebrate removal projects provide a unique opportunity to develop detection techniques and integrated decision support systems in ecosystems that are "small" and "closed" compared to most continental contexts. However, the technologies developed for island use may be applicable to addressing the broader challenges associated with national and even continental invasive species management goals.
Respond to this Challenge!
Ready to help us detect and address invasive vertebrates and their effects on island ecosystems? Think you've got a good idea or potential solution that might help tackle this challenge? Then, let's get to work!
Please share and submit your idea or project here. Challenge Leaders are eager to work with project instigators and develop and apply promising solution ideas. The community will help shape and improve your idea, and the Digital Makerspace can offer tools and exposure to help you get traction.
Your project idea may be eligible for the Con X Tech Prize, a prototyping grant competition run by Conservation X Labs. Check to see if there is an active competition and get started on building your idea!