The Problem
Timber and wildlife product trafficking is on the rise and becoming increasingly difficult to combat and track. In 2012, the United Nations Environment Programme (UNEP) and the International Criminal Police Organization (Interpol) estimated that annual losses globally from illegal logging are from US$ 30 to $100 billion, and the wildlife economy is estimated to be the fourth largest illicit economy in the world by value. Also, one Oceana study found that 20-32% of wild-caught imported seafood in the U.S. comes from illegal, unreported, and unregulated (IUU) fisheries. Many fish, timber species and/or wildlife products are difficult to identify visually, and even more so when they have been turned into products such as furniture, filets, powders, carvings, and oils. DNA analysis can be a useful tool, but is currently only available in lab, sometimes far away from where the crime takes place, and requires lab equipment and infrastructure, trained professionals, reagents, and time.
Our Proposal
Park rangers, customs officers, and law enforcement agents are at the front-lines of wildlife and timber trafficking issues and need new technologies that provide durable advantages over traffickers. Additionally, supply chain managers and corporate seafood buyers need ways to inspect their supply chain quickly and accurately. To meet this need, we are creating a low-cost, modular, portable DNA barcode scanner, designed for the developing world, that can identify wood, fish, and/or wildlife product samples in the field to the genus and species level without access to taxonomic experts or a laboratory. The device will utilize the Barcode of Life Database (BOLD) as a reference library, and we are creating disposable identification assays which can be used for sample species identification. Such a device will give front-end law enforcement agents and supply chain inspectors the ability to quickly and precisely inspect and ID products, and decide whether further analysis necessary.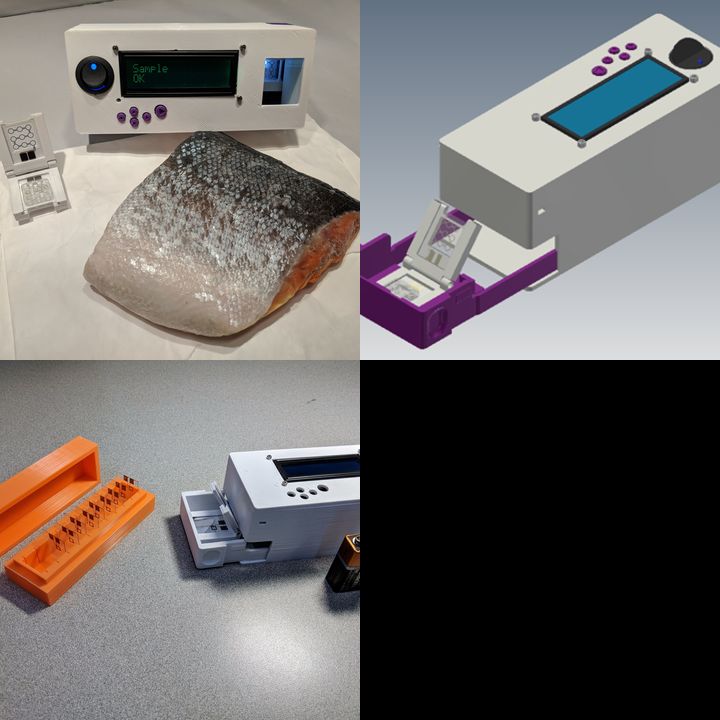 We Assume that...
We can get "readable" DNA out of timber, fish, and/or other wildlife products
We can prepare a sample for analysis in the field without contamination
We can produce a device that can analyze this DNA and identify it, in a hand-held form factor
The hand-held device will work where inspectors are, and in the conditions they work under
The price point will lead to volume sales
15 species' catalogue on the device is enough
Constraints to Overcome
Bringing molecular-grade experimental control and sensitivity to a field biomolecule detection device.
Current Work
Constructing an MVP detecting positive reaction with integrated camera and bluetooth analysis on paired smartphone Reaction volume modeling Designing detection assays and performing amplification reaction on-chip Market and customer segment research
Current Needs
Over the next three months we would love to include more individuals with experience in electrical engineering, genetic analysis, industrial design, and branding.