Key Conservation
The Key To Better Conservation Impact
Key Conservation provides funding, skills, and in-person help for conservation.
The phone rang in a small marine research station on a Caribbean island.
A nesting sea turtle had laid its eggs too close to the shoreline, and the rising tide was threatening to wash the nest out to sea. Megan Cromp ran out to the truck to drive out and rescue the eggs, but the tank didn't have the fuel needed to make it out to the remote beach. She rushed back inside to the donations jar – and discovered that there weren't enough funds to refuel the truck.
Project Snapshot
Scaling
Key Conservation is helping conservationists receive critical funding and increased global support through a mobile app that provides real-time updates on day-to-day campaigns.
5 Members
Not accepting new members
In emergency field situations, you do what needs to be done. In this case, Megan paid for the truck refuel out of their own small stipend. But on the drive out to the remote beach, Megan felt the sting of frustration of trying to act on the front lines of conservation with limited resources. She knew that any one of her friends back home in the US would have chipped in to gas up the truck. But in the suddenness of that moment, and the remoteness of the Caribbean island, there was no way to connect those would-be funders to the stranded volunteers.
"That's where the idea started for Key Conservation," Megan says. Over the years, she kept coming back to that moment in her mind, and an idea began to form. An app to seamlessly connect individuals all over the world to field organizations in real-time with three options to help: fund unplanned expenses, the ability to give professional skills, and push notifications about local volunteer opportunities. Not only would the app provide a key source of support for on-the-ground conservation – but supporters would also feel the pride of seeing the outcome of their support in action when the conservation organization sent back a photo and/or video feedback as to what their individual contribution helped them achieve.
People want their individual support to make a real-world change.
Back home in San Diego, she put pen to paper. What would this app even look like? "I called Key 'my Frankenstein app' because I downloaded 50 different apps and started using them until I hit walls, really cool designs, things I didn't like," said Megan. "I tried to incorporate all that learning into the Key app." A watershed moment for Megan was shelling out for an app design software called Sketch at a time when money was tight. "Now you really have to commit," she remembers telling herself.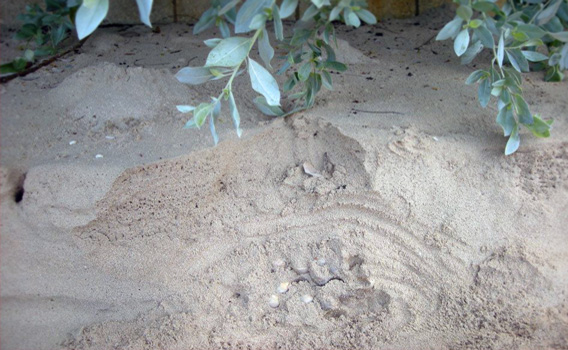 The turtle nest that provided the inspiration for Key
Megan Cromp
And commit she did. After designing countless app screens, features, and interactions, she made a leap of faith and left the conservation field to cut her teeth in the bustling tech scene by joining a startup working to design an app for veterinary clinics. "Stepping away from conservation felt like I was taking a huge step back in my career," said Megan. But that experience as an early employee, watching the team design for their customers and onboard new teams, was hugely helpful in her side hustle – designing the Key app.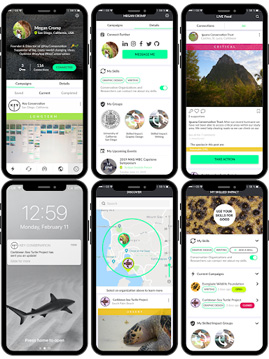 Screenshots of the Key Conservation app
Megan Cromp
There was still one major challenge: building the app itself. Without experience in software development, it was hard to know where to start. Where to find a developer? How much should they cost? While researching, Megan stumbled across the Digital Makerspace, and started finding answers – to those questions, and many others. "There have been a ton of different perspectives from the community, always something I wasn't expecting or a resource that has been really helpful," says Megan. "Plus, support from the CXL team to believe in what we were doing – that was really important to us."
Today, the team has grown to include Carley-Rose Horowitz, a volunteer found via the Digital Makerspace, a collaboration with Lambda School whose developers have been running build sprints on the app, and a new partnership with University of California San Diego to give Computer Science students real-world experience. And the future looks bright: after their launch in 2020, Key has big plans including gamification, bringing local communities into the app, and expanding into other impact initiatives such as bringing on researchers and businesses.
For Megan, it's been a long road from that beach in the Caribbean but finally seeing the app come together and watching organizations and supporters test it makes it all worth it. Learn about how to sign up your conservation organization for the app or how you can be the first to know when the app launches here.