NEW WAVE FOODS
The New Wave In Sustainable Shrimp
This food-tech startup wants to save oceans by making plant-based shellfish out of seaweed.
It's in a work-day lunch salad, a box of lazy-weeknight Chinese takeout, and skewered on your grill during a weekend barbecue: Americans eat, on average, 4 pounds of shrimp annually, making it more popular than tuna, salmon, or any other type of seafood. But while there is sustainable wild shrimp available in some parts United States, it's not more gulf shrimp or spot prawns that are meeting the more than three-fold increase in demand seen over the last 35 years. No, much of the shrimp Americans eat is farmed, and the industry's soaring growth has led to huge losses of mangrove forests (which can store a lot of carbon) in coastal Southeast Asia, and the seemingly endemic use of slave labor in the shrimp industry.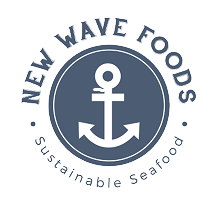 Conscious consumers are left with few good options, such as shopping for certain types of sustainably caught wild shrimp—which is far pricier and harder to find than the imported farmed shellfish. But what if you could get that crowd-pleasing flavor and texture of shrimp without any of the downsides? New Wave Foods has developed an alternative that not only avoids the high human and environmental toll of farmed shrimp, but avoids having to catch any kind of fish at all. Instead, the food-tech startup makes its plant-based shrimp product out of algae and other plant-based materials. As the company's tagline puts it, "We disrupt seafood, not oceans."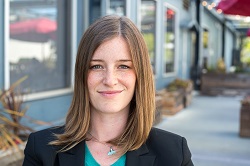 Dominique Barnes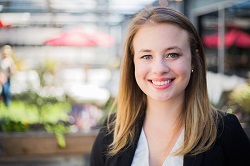 Michelle Wolf
Cofounders Dominique Barnes and Michelle Wolf are driving that disruption by considering shrimp on a molecular level. In 2015, the pair started New Wave at Indie Bio, a prestigious biotechnology incubator in San Francisco, where they were the only startup accepted as an idea on paper. To develop the shrimp alternative, the pair worked on texture mapping shrimp in order to understand "how different molecules give you different texture profiles, like elasticity or bounce," Barnes said, adding that the mouthfeel of other shellfish alternatives on the market was always lacking. "And we were able to use that information to narrow down our selection of our algae and different plant ingredients."
The combination of algae goo (as Barnes called the kelp extract they use), microalgae, soy protein, red-tinted lycopene, and other ingredients is said to expertly mimic both the texture and flavor of shrimp. Indeed, after JP Reyes, a friend who was working as a chef at Google, tried New Wave's product in 2016, the tech giant put in an order for 200 pounds on the spot—far more than Barnes and Wolf were producing at that point. "We just finished Indiebio and hadn't started on commercial scaling, and so we were like, ok, let's negotiate on what we can do now," she said.
With commercial production underway as of June, New Wave is now making 10-times as much shrimp as the pair were able to mix up by hand in the lab. The company is working with other food-service clients like Google for the time being—partly because such a large amount of seafood is eaten away from home, and partly because corporate cafeterias and the like, order a lot of product—before eventually moving into retail.
But even as the product is rolled out, there's still more work to be done, like perfecting an algae-based protein to use instead of soy. But the problem is, the algae protein turns the shrimp green. Growing the portion of algae-derived ingredients would not only be good from a nutrition standpoint—the omega-3s in fish like salmon work their way up the food chain from algae—but in terms of the larger mission to build a triple-bottom line company.
There's a huge opportunity not only environmentally, but also in terms of food security and economies.
"The big vision for New Wave is to do some more vertical integration for our ingredients, and instead of having these shrimp farms on coastal communities in Southeast Asia, what if we could replace those with algae farms that are starting to clean the water, improve local economies, provide sustainable jobs that pay a fair wage, so they aren't forced into slavery to work for free," Barnes said. "There's a huge opportunity not only environmentally, but also in terms of food security and economies."
With access to a host of marine conservationists, climate scientists, and other innovators via Oceans X Labs and the Digital Makerspace, Barnes is hopeful that New Wave can move toward that big vision. "We can do things like get solid numbers around exactly how much water is saved, or exactly how much resources are used to create our product compared to traditional shrimp," which are difficult numbers to nail down. That, or someone who has figured out to make an algae protein extraction that isn't green.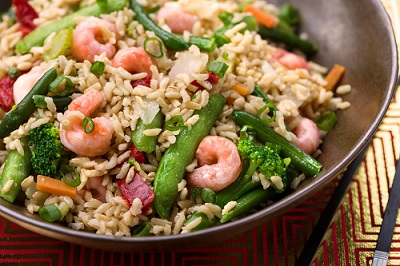 New Wave Foods Shrimp
As its shrimp production scales up, and New Wave continues to expand, Barnes said the company will also be working to develop new products, including other shellfish and eventually fin-fish alternatives too. As someone who grew up in Las Vegas, surrounded by all-you-can-eat seafood buffets in the middle of the desert, Barnes' "dream vision is to someday go back to Vegas and the entire buffet is made from New Wave seafood instead."